Abyssinians in Europe - Their Show Success & Influence on the Breed Development
by Christine M. Ruessheim
published in the Fall Issue 1997 of ACCA (Abyssinian Cat Club of America)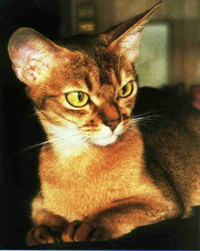 I have been asked by the editor of ACCA to write something about the winning Abys in Europe and their influence on the breed as we see it on the showbenches of today. Well, there are a couple of significant cats and famous catteries who have quite contributed to the look of our present Abys. Since I am in the cat fancy for a little more than 10 years only my report will cover the last decade merely and due to the close deadline I had to concentrate on a couple of names and catteries although this topic is so fascinating one could easily write a small booklet about it. Since Marianne Roth (Taco Villa Abyssinians, Denmark) will cover the northern part of Europe and their breeders with her report I will focus on some famous Abys from Germany and Switzerland mainly, not to forget some special Abys in surrounding countries as well.
When talking about Abys in Europe you can't avoid thinking about "Sauveterre" cattery and its many beautiful and prepotent offspring in the first place. Marina Franz, owner of the cattery, started breeding Abys ïn the early 80s with a red female called EC Amneris von Amarna and when bred to her first American import, EC Tausert's Papillon,
a very sweet and laid back red male with great coat, they produced some nice offspring which in turn were the foundation for other catteries like Gamin de Sauveterre for the Volta's cattery in Germany and Liberty the Sauveterre for Lene Oddershede (af Oddershede) in Denmark. It was 1984 when Marina acquired IC Fellow's Firenza, a red female who was already five years of age and bred to Catknapp Bert of Bastis, DM when she was imported. Firenza only had two kittens and Marina kept EC Kolibri de Sauveterre, a truly nice ruddy female with a headtype far ahead of her time with a very sweet expression and a perfect profile. Kolibri was one of the best breeding females Marina ever had and was the dam of several Abys who became in turn a foundation for many other catteries.
To name a few: EC Godiva de Sauveterre (sire Ch. Bahariya's Sauveterre Cheops),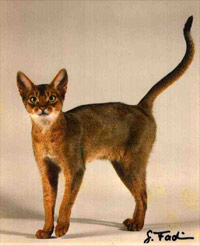 red female who produced a couple of nice offspring for the Amonasro's cattery of A. Halasek; EC Wapiti de Sauveterre (sire EC Bastis Papyrus of Bahariya), red male who went to Christine Schummer of Badari cattery; EC Anjuli de Sauveterre (sire EC Serval de Sauveterre), ruddy female who became a resident of Osiris Isis cattery owned by Karin & Klaus Overdick and when she was bred to EC Amenophis von Osiris Isis, another legendary ruddy Aby male, EC Re von Osiris Isis was born (owner E. Broch-Schwagerus). Two years later Karin repeated the breeding and kept GIC Anubis von Osiris Isis. Both were very pleasing males of decent size, high on legs with very nice expressions and huge ears. IC Ammanati de Sauveterre (same breeding as Anjuli), who produced two litters for Gesine Wolf with the Anderwelt prefix and who finally came in my home and last but not least, EC Amourette de Sauveterre (litter sister of Anjuli & Ammanati), a very stylish and leggy ruddy female who became almost a World Champion at the very first Fife worldwinner show in Munich seven years ago, but unfortunately at that time the opposite sex winner wasn't awarded the world champion title. Amourette was very ahead of the time as far as type goes.
It was in 1989 when Amourette produced a remarkable litter when bred to her halfbrother EC Wapiti de Sauveterre.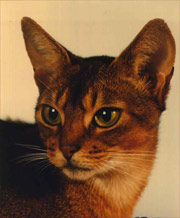 The whole litter was of grandable quality as you would say in the US and all of them went to different catteries as a foundation except for IC Kebra-Nagast de Sauveterre who remained in Marinas home. IC Kalami de Sauveterre became a stud for Jannie de Heij, Krobbeguod Abyssinians in Holland. I have been reported that he produced at least one noteworthy male, KLM Kryst van de Krobbeguod (dam GC Shalaron's Diabolique) with the most intense and deep red ruddy color one can imagine. EC Kohinoor was another litter brother with intense color. He stayed in Germany and is owned by C. Diemer-Stolze. Kohinoor has influenced tremendiously the Somali breed when Harald Fuchs (Füchslein's Somali's) decided to use him in his breeding program as he was prepotent for color and type, which was needed so badly in the Somali breed. Finally, there's the third male out of this litter, EC Krishna de Sauveterre, DM. He went to the Czech Republique and produced many promissing offsprings for the wellknown Rosa Glauca cattery, owned by Jana Knyova.
One of the most famous and influental Aby ever bred in Germany in the nineties was certainly EC Serval de Sauveterre , ruddy male loved and owned by Rolf Gerken, von Abakus Abyssinians. Serval is a very flashy ruddy male with incredible black ticking, black hooks all the way up, huge ears and a very distinctive Aby expression he used to pass on very strongly. He has not only won many many Best in Shows in the past and set somewhat the Aby standard in Fife but is also a great producer and it is almost impossible to find an european aby pedigree of the nineties without finding him at least once. Serval produced many offspring for alot of catteries throughout Europe and I will name here only a very few ones who have been succesful at shows: EC Zorro vom Rabenwald (owner: Meininger, Austria) EC Bahariya's Taousert Dynasty III, GIC El Kemet Aadje (owner P. & P. Forster, Germany), GIC Danielle von Delensdorp (Germany). Serval is 11 years of age now and very healthy as Rolf reported to me and is still siring kittens. His red litter brother, GC Sarang de Sauveterre, went to Canada where he was very successful at shows. He lives with Christine Megens of Bidadari cattery. The parents of these two significant males were IC Volta's Akaoni Divio and IC Nepenthes Tramontane.
Unfortunately, Tramontane passed away much too early at the age of two due to a bladder infection with resulting kidney failure when she was pregnant. I'm sure she would have produced more Servals and Sarangs. Luckily, Marina got kind of a replacement when she received EC Nepenthes Jason from Joan Miller who was a halfbrother to Tramontane. Jason was homozygous for ruddy with a splendid ticking he used to pass on. So, when bred to IC Bahariya's Assiout Red Dynasty (EC Bastis Papyrus of Bahariya x EC Sun Dance Alove Note of Bahariya) he produced some notable offspring for Claud J. Paul & Marcel J. Godenir like EC Bahariya's Horemheb Dynasty II, ruddy male (who in turn had some influence for Patricia Ernst for her silver Abyssinian program, Texas Star) & EC Bahariya's Hatchepsout Dynasty II, ruddy female, both of which remained at the Bahariya's cattery, and finally Bahariya's Horus Dynasty II who went to Finland.
EC Sun Dance Alove Note of Bahariya, a very nice red female, was also bred to EC Tausert's Papillon which produced EC Bahariya's Vega Red Star, red female who went to Ch. Trimolet in Switzerland, de la Venoge cattery. One of her offspring when bred to GIC Sun Dance Kaliente was IC Quillaboo de la Venoge a red foundation male for Nebmeluka cattery in Switzerland.
But Jason not only produced promissing kittens for the Bahariya cattery but for a couple of catteries in Germany, Holland & Switzerland as well. EC Wild-Velvet von Rachodan is a nice male with beautiful black ticking and the stud of Angelika Bölke of Rachodan Abyssinians. When Jason was bred to Ammanati de Sauveterre he produced two offspring who both were used in the Baton Rouge cattery of Switzerland: EC Anderwelt Nostradamus, rather small male but with intense color and fantastic clarity, and IC Anderwelt Inflagranti, petit but very balanced ruddy female with good color and ticking. Both have also inherited the wonderful sweet temper of their sire.
Andrea v. Elmpt who owns famous Detrevande cattery in Holland also decided to use Jason in her breeding program and when she bred Ruddy ZsaZsa van Galoubie Koschka to him a ruddy male, IC Vildt Carsten pa Detrevande was born who in turn produced a couple of nice offsprings for her and other catteries as well.
I have certainly not covered every noteworthy cat Marina Franz produced in her cattery but hope having mentioned the most famous ones. Marina has cut back her breeding program of Abys & Somalis immensly and is pretty busy with her Barsois for the time being. But she said, who knows, I might come back somewhen in the future. Hope she will!
Now, I come to a famous Swiss cattery, de Chantebise, owned by Nella Carnazzola and who many of you will know as the last home of GCNW, Cinna's Jack Daniels of Chantebise, DM who recently went to the rainbow bridge at the rip old age of almost 18 years. But before Nella acquired Jack she was already a wellknown breeder who had her breakthrough I think with an Aby male named EC Pharaon de Chantebise. Pharaon was born in October 1986 sired by EC Wil-O-Glen's Tanfastic out of CI El Tigro's Soraya and his show career was exceptional for that time. His Europe Champion title was achieved within 21 shows only (the absolute minimum in Fife) and during that time he took 16 Best of Colors, 18 nominations, 13 Best in Shows & 2 Best opposite Sex. But also his dad, Tanfastic was a winner himself and Pharaon was not the only exciting offspring he produced. EP Rhapsody de Chantebise (dam is Ophelia de Chantebise) was one of the most winning ruddy neuter ever, taking home many Best in Shows for his owner. EC Tokira of Blue Nights, EC Soa of Blue Nights & EP Tariq of Blue Nights, owner Denise Brugger, are noteworthy Tanfastic offsprings as well (all three of them are out of GIC Puen Chan's Nora). Pharaon himself was not only a show stopper but produced very quality kittens with females of very different background. To list a few: EC Bahariya's Mykerinos Dynasty IV (dam EC Bahariya's Taousert Dynasty III), EP Rajah de Chantebise (dam Ophelia de Chantebise), Anastasia de Chantebise, ruddy female who became a World Winner in the kitten class in Geneva 1994, EC Vanadis of Blue Nights (dam GIC Puen Chan's Nora), GIC Tiffany de Chantebise (dam EC Wil-O-Glen's Promises) and a couple of others for the Chantebise cattery. In Geneva two other Abyssinian from the Chantebise cattery became World Champions besides Anastasia which were: WW94EP Rajah de Chantebise, ruddy neuter owned by S. & H. Caillat, and WW94 IC Amandine de Chantebise, red female owned by C. Certletti. Amandine is the result of breeding Ch. Vishnu de Chantebise (a Pharaon son) to IC Uzma de Chantebise (Jack Daniels x Wil-O-Glen's Promises). De Chantebise Abyssinians are known for their distinctive ticking, absolute clarity and exceptional coat quality as well as for their typical look. Since Nella's husband passed away last year she no longer visits shows and breeds only on a small scale, what is really a loss to the breed and showbench.
Another cattery who became famous in the last decade is Lone Star, owner Daniela Goll, from Paris in France. When Daniela came back from several years of living in the United States she brought also two Abys along with her which turned out to become one of the most "clicking" Aby combination in the last couple of years. They were EC Shechinah Damas, a red Aby male out of Ch. Shechinah Canaan and sired by GC Alekay's Joshua of Shechinah and EC Shechinah Esprit d'Amour, ruddy female and the same breeding however not littermates as GCNW Shechinah Daniel which is GC Izod's Me-Too of Ashaby x Ch. Alekay's Ruth of Shechinah. This two cats produced so good together that Daniela made a couple of breedings with them and several offsprings went on to produce nicely for different catteries. EC Gueb Lone Star, ruddy male went to a french cattery, Ch. Henessy Lone Star, also ruddy male, became a resident of the Venoge cattery of Christiane Trimolet, formerly living in Switzerland now having settled in France, too. EC Fiona Lone Star, ruddy female, remained in Daniela's home.
But WW95 EC Ghostrider Lone Star was unquestionably the most winning AND prepotent male offspring out of this combination. Koos, how he affectionately was called, went to live with Kees van der Kruijf in Holland, owner of the Knierendel cattery.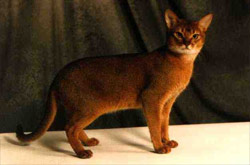 Whenever Koos came to a show he almost always took home a Best in Show, many times Best of Best even! Ghostrider had beautiful headshape with soft lines and ears set well apart, and his rich color was simply striking. But his strongest point was his absolute show presence which judges just couldn't resist. His many offsprings out of very different combinations show often the same caracteristics he was so prepotent for: his headtype with a very sweet expression. Ghostrider died at a young age of 5 a year ago but his influence on the breed is still strong throughout Europe, even two or three generations away. Sadly I have to note that his owner Kees followed Ghostrider to the rainbow bridge in September of this year - he loved his boy very deeply.
Now, since Betsy asked to write something about my own breeding program I have to turn back the wheel some years again. As I mentioned initially, I became a member of the catfancy a decade ago. But my real start was actually when I was lucky enough I could acquire GC & IC Lemeaux's Amadeus of Baton Rouge (read Wolfie's story), a.k.a. Wolfie from Marti Sterner in 1991. He is an absolute special readhead who has contributed alot to my cattery. He is retired since a couple of years and lives as a very pampered pet in the most beautiful home with a very charming lady.
Wolfie had his biggest impact on my silver program (which I'm probably & unfortunately going to give up) and his sorrel-silver daughter EC Baton Rouge's V. Pipi L. (L. stays for Langstroumpf) became a very wellknown participant of many Best in Shows throughout Europe, still rare today for a Silver Aby! Pipi inhereted Wolfies sweet temper, extreme body & phenomenal ticking. But I also kept a red Wolfie daughter for my full color breeding program, IC Baton Rouge's Wakonda, a talkative red female with long legs and great body who was out of IC Anderwelt Inflagranti, a Nepenthes Jason daughter out of IC Ammanati de Sauveterre.
A couple of months later in the same year Wolfie became a resident of my home I was blessed with good luck again when Carolyn Osier agreed to send GC Wil-O-Glen's Bismarck of Baton Rouge to Switzerland, a dramatic ruddy male with rich color, beautiful head with large flaring ears and a very sweet expression. Markie became a wellknown face at Fife shows very soon, got his title as a Europe Champion without problems in 21 shows,often beating competition and taking home many Best in Shows as well. He also turned out to be a very good producer and the first breeding to IC Ammanati de Sauveterre (EC Serval de Sauveterre x EC Kolibri de Sauveterre) gave me a nice litter of 3 ruddy boys and 1 red girl, GIC Baton Rouge's Whoopie.
Whoppie had alot of Bismarck's headtype and has won many times including a national best Shorthair kitten Switzerland for their owners, S. Bolliger & C. Coleman. When Bismarck was bred to EC Fiona Lone Star he produced his biggest litter ever with 8 kittens!
Bismarck's pedigree seemed to work with almost any female he was bred to and some noteworthy offsprings are EC Tschambran of Gondar's Idi-Tschma, ruddy female, GIC El Kemet Caesarea, ruddy female and foundation of El Sarkophag cattery of Ute Mombartz, IC Jolie-Mome de la Courtille, ruddy male, IC Jhanas Dolma de la Courtille (both bred by Josiane Thiriot) Ch. Tallulah's Billie Jean.
Josiane Thiriot, de la Courtille Cattery from Paris, France, made the breeding with her red Australian female GIC Merindalee Gwendolyn Aussie Maid twice (second breeding produced Jolie-Mome & Jhanas Dolma). The first litter produced two females (a red & a ruddy). They looked so nice intype and colorwise that I decided to take the ruddy female back into my breeding program, IC Hotpursuit de la Courtille. The red littermate GIC Hosanna de la Courtille, turned out to be nice as well and was the foundation for another cattery in France. Hottie produced three litters for me before she went over the big pond to hopefully produce some nice outcross offspring for Stephanie Hale, Diva Cattery. Baton Rouge's Cover Girl, ruddy female sired by Ch. Baton Rouge's Abandonado (a Wolfie & Bismarck grandson) became the foundation of Luxor's cattery, B. & B. Rudin in Switzerland. GIC Baton Rouge's Chances Are is a ruddy son of Hottie sired by GIC, Pr. Baton Rouge's Big Easy. He has very beautiful and even ticking, absolute clarity and a very sweet expression with flaring ears with these rare lynx tips defenitely coming from the Merindalee line! I decided with a somewhat heavy heart to part from him some weeks ago (he produced a nice female for my friend Melanie and hopefully has bred my Bonzai) since all of a sudden, Chances and Donjuan and their dad Big Easy no longer got along nicely as they used to. So hopefully he will be a nice asset to the breeding program of Beth & Darrel Newkirk, Purssynian Abyssinians. Now, I am already arrived at the latest generation of Baton Rouge Abyssinian and I still haven't talked about two other important foundation cats of my breeding program:
GIC Ashura VeniVidiVici, an elegant red female bred by Jane W. Clark and Ch. Phaulkon's Karaba, a very colorful and clear ruddy female bred by Sylvia Fitzgerald. Veni was a very successful showcat and she has been bred to Bismarck and EC Anderwelt Nostradamus. I kept something out of both litters, GIC Baton Rouge's Amore Mio, petit but very balanced ruddy female sired by Nostradamus (her littermate, GIC Baton Rouge's Appassionata became a foundation for another cattery, and red litter brother became nationally best shorthair kitten 1993) & Baton Rouge's Z. Bush-Baby sired by Bismarck. Mia (Amore Mio) is the dam of GIC, Pr. Baton Rouge's Big Easy & GIC Baton Rouge's Careless Whisper, ruddy foundation female of Melanie Walzer, Opelousa Abyssinians. Bush-Baby sired Ch. Baton Rouge's Abandonado and Ch. Baton Rouge's All My Loving, ruddy male with rich color and lots of expression. I lost Lover totally unexpected and much too early at the age of one and a half due to heartfailure (cause was myocarditis of viral pathogenesis) and this event let me experience the first time how you feel when you're hitting the wall. His only litter he produced was when bred to Ch. Phaulkon's Karaba (Carrie) where I fortunately kept Easy. But Carrie's first litter was together with Bismarck. And what a thrill, the ruddy girl became my first World Champion at the World Winner Show 1993 in Copenhagen, Denmark: Ch. Baton Rouge's Zensation, owned by Peter & Petra Forster, Germany. Carrie's third and last litter was sired by Abandonado and the result was Baton Rouge's Blind Faith, a girl I could never show although she certainly had the qualities because she developed some reactions to her first vaccines and the hairs were never totally growing back there. Carrie has been spayed after this litter despite of the outstanding quality she produced and no matter what male I used because she never adapted really in my home. She is now the happy single cat in a wonderful home, something she always wanted to be and which I felt obliged to give her as soon as possible. The latest generation of Baton Rouge Abyssinians is a very flashy ruddy male with the most incredible temper I ever had in my home:
EC & CFA Ch. Baton Rouge's Don Juan de Marco, a Big Easy son out of Blind Faith. Don Juan was sold when he was 4 months of age, but heaven brought him back to me and now he is reigning the house right now at home being very protective to all kittens and very gently to the females, nothing can ever take away his calm except for any other male, neutered or not! He also loves shows and is doing quite nicely. As of June 21, 1998 DJ has finished his show career by becoming a Europe Champion, the highest titel that can be earned in Fife. He won numerous Best in Shows and many Best of Colors and has topped his success by getting Best Shorthair Cat 1997 in Switzerland with limited showing in his own country only! In April of the last year Don Juan produced the 5th generation of Baton Rouge Abyssinians, when Sandy & Jack Barlion generously agreed to lease their GC, RW Hyecatz Crystal Tears of Sanjack to me. Future will tell if the breeding was worth it, so far Sanjack's Shezalady and Sanjack's Hezatopper have done pretty nicely at some shows in California and litter brother Sanjack's Addicted to Love, who stayed in Switzerland, can't complain either.
I would like to end my report with my heartfelt thank to everybody for their support and their willingness to give the most excellent bloodlines as a foundation for my cattery. I simply got the best to start with and every single Aby has greatly influenced to what is called the Baton Rouge Abyssinians of today. I also wish to thank everybody who has helped and contributed bits and pieces to make this short and and by no means complete history about European Abyssinians possible. Unfortunately, the deadline was a bit too close as I think I could have written so much more.
Submenu Breed History

updated: April 2018